"I bought a bush meat not knowing it's a human flesh," – then the unbelievable happened (Fiction)
I'm Mrs. K.S, i live in an interior city thirty-seven years old and I'm married and blessed with three beautiful kids.
One day i found a lady GB bushmeat seller in my shopping on the market. And as my husband loves it, i became the seller's loyal customer to the point that i placed orders at home.
Then i went into the market after over a week without any news from my customer and after not receiving my order, i picked up my order and received news from the GB who was not reachable too, so her neighbors told me that my seller had been captured in her village in a Witchcraft gathering.
In fact, during a funeral in his village and on the way to the burial, people carrying the remains were suddenly hit by a supernatural force, which made them return to the village and they were struck by the spirit of the dead. And all the named persons were guilty of the death of the deceased, or participated in it.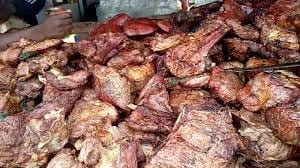 Are u an artist who wants to promote your songs on Mp3ghana.net? Please call or Whatsapp: 0576270779